Contact Us
CALL US
Please use our toll-free number 1-800-753-5934 or 1-406-646-7217 if calling from outside the United States. Our staff is there to answer your questions from 7:30 AM to 8:00 PM, Mountain Standard Time.

GENERAL INQUIRIES
Email us at info@paraderestranch.com or please use the form below to submit general inquires to Parade Rest Ranch. In order to receive a reply you must include a valid e-mail address.
---
MAP & DIRECTIONS
Parade Rest Ranch is easy to find. Parade Rest Ranch is snuggled up to the west side of Yellowstone National Park and conveniently located just one mile west of the junction of US Highways 191 and 287 in southwestern Montana. See detailed maps below.
The ranch is just nine miles North of West Yellowstone, Montana. Bozeman, Montana, is just 82 miles north and Idaho Falls, Idaho lies 118 miles to the south. From either direction, the highways pass through beautiful mountain scenery.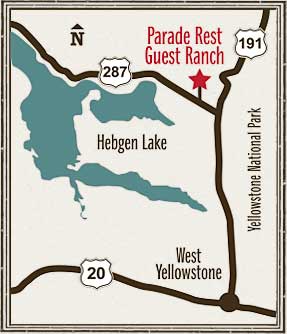 FROM WEST YELLOWSTONE
1. Head North for 9 miles on 191 to the junction of 191 and 287.
2. Turn left (West), and drive about one mile.
3. Watch for the Parade Rest Guest Ranch sign on the right and turn North.
4. Bear left through the ranch gate and the office is on the left.
---
TRANSPORTATION
The Parade Rest Ranch provides complimentary round trip transfers for our guests from the West Yellowstone airport which is serviced by Sky West/Delta out of Salt Lake City, UT, starting mid-June through September.
Rental cars are also available at the airport. Bozeman, MT, just 90 miles to the North, and Idaho Falls, Idaho to the South.
There are limited flights into West Yellowstone, Montana and full schedules into Bozeman, Montana and Idaho Falls, Idaho airports. Schedules include:
Northwest, Alaska, United and Delta Airlines service Bozeman.
Delta and Alaska Airlines service Idaho Falls, Idaho.
Northwest, United, American Airlines & Delta Airlines service Jackson Hole, Wyoming.
SkyWest, a Delta connection, services West Yellowstone's airport from early June through September.
TRAVEL AGENCY
Our affiliate, Yellowstone Tour and Travel, www.yellowstone-travel.com in West Yellowstone, is a full-service IATAN travel agency and can provide you with airline, car rental information, and Yellowstone Park tours and reservations for this area. Call 1-800-221-1151 for assistance.